A new Mastermind Group starts on the 23rd of September 2021 at 12:30 pm UK time

We live in unprecedented times, full of opportunities and challenges in equal measure for sustainability professionals and leaders.
But do you know how to face challenges and grab opportunities?
Do you feel fulfilled by your current professional situation? Or do you struggle to get people to listen to you?
To make an impact?
To work at your pace rather than some else's?
To stand confidently in front of an audience and speak your mind?
More and more people are now interested in sustainability. Do you think your technical knowledge is enough to set you apart from the competition, especially during a possible recession?
What if you don't do anything at all?
Of course, you can do nothing and hope for the best. But in a world that is changing rapidly, technical knowledge and a passion for sustainability might not be enough to get you where you want to be. In fact, doing nothing to change your status quo can only lead you to the same old patterns of frustration and resentment.
Others with your same qualifications but more confidence and influencing skills might overtake you and grab that opportunity you had your eyes on.
If you don't invest in your change, it's unlikely that your situation will shift and your problems will go away.
We get it; you have been too busy to invest in our personal skills and professional growth.
But you owe yourself to achieve what you dream of and deserve. You owe yourself and planet Earth to become a sustainability champion and spread that message far and wide.
What if there is a different way?
Of course, you could try and shift your stumbling blocks on your own.
But imagine having access to a supportive group of people instead, with similar challenges and similar values as you, but coming from different backgrounds and paths of life. Imagine having the opportunity to pause and focus, once a week, on the key skills that affect your productivity, impact, effectiveness and career progress. Imagine being shown some practical solutions and different points of view to tackle your issues.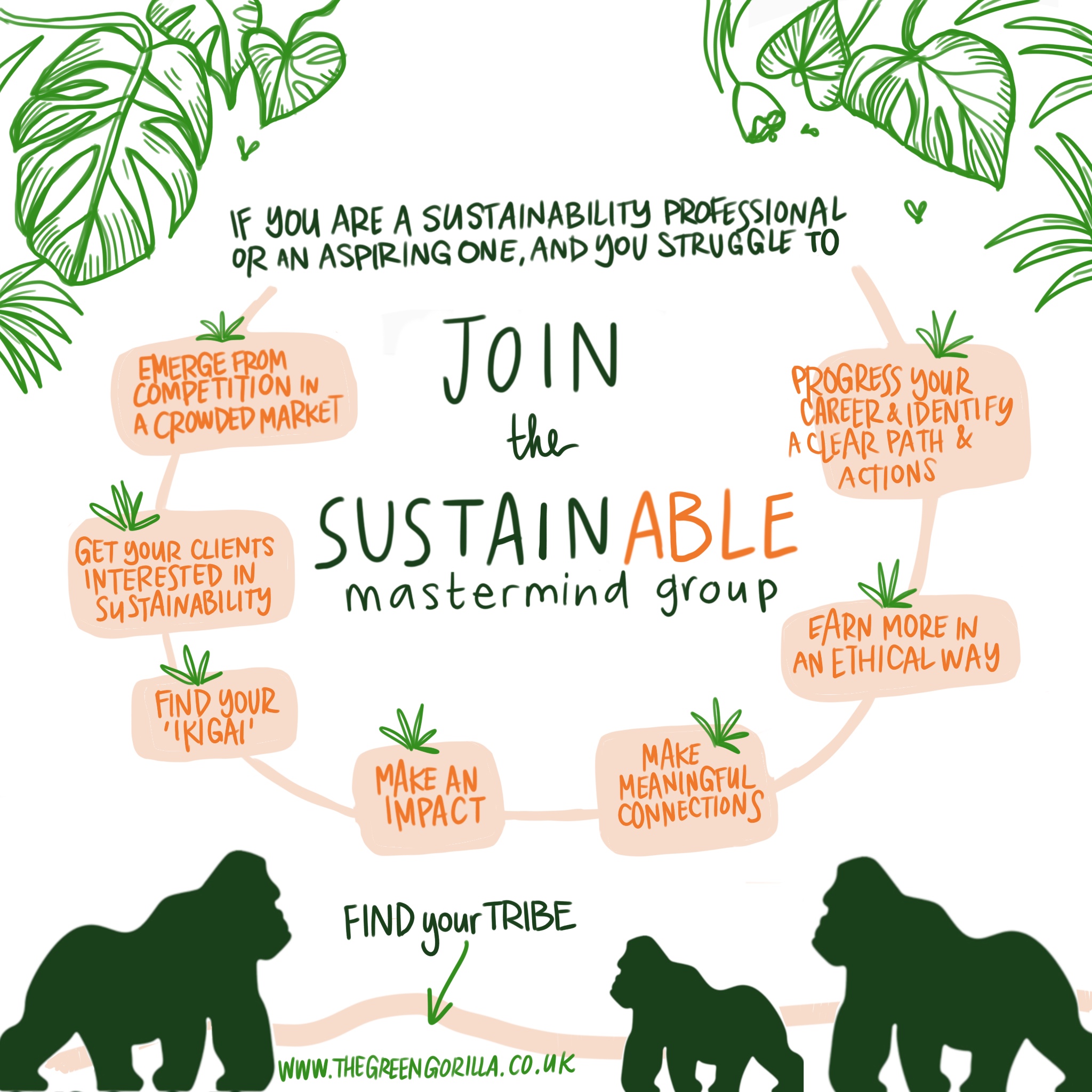 What is the SustainABLE Mastermind Group and how can it help you?
"Virginia is an inspiring coach and mentor. She bridges the divide between technical expertise and a great understanding of how to use soft skills to ensure greater influence. The first four weeks of the SustainABLE Mastermind have already proved to be transformative, and have really made me reflect on the stage I'm at, where I'm going, and how I will get there."
- Kate, Sustainable Business Founder and Director
At Green Gorilla we have created the SustainABLE Mastermind to support sustainability professionals and leaders like you in their journey towards success.
It's a four-month online programme during which sustainability-focused, like-minded professionals and leaders like you can grow their professional skills collectively and support each other in the process, in a safe and confidential space.
Based on the framework described in the book SustainABLE: How to Find Success as a Sustainability Professional in a Rapidly Changing World, each month for four months author and coach Virginia Cinquemani leads the group to deep-dive into the four key skills of successful sustainability professionals: resilience, communication, selling and influencing, and project and people management.
Each month you will address the challenges that arise from the lack of those professional skills both as a group and as an individual, to shift your mindset and find practical solutions.
In this process, you will focus on growing your confidence so that you can learn to:
Speak to others in a clear, concise and charismatic way
Speak publicly with confidence and influence anyone you have in front of you
Work through challenges of any kind well-armed to overcome them
Negotiate and sell your sustainability ideas successfully
Manage your workload and others so that you become more efficient and effective
Progress your career to the next level
Find your tribe.

What do you get when you join?
Three webinars a month (download our prospectus)
A monthly challenge on the theme of the month
One group coaching call a month
A monthly one-to-one coaching session to work on your individual issues
A copy of SustainABLE, the book - paper or digital (just pay P&P!)
Networking and new connections
50% off the eLearning Green Gorilla Masterclass Programme
In between sessions, participants will be able to interact and support each other via our private community platform.
Virginia Cinquemani will coordinate and lead the group and offer tips, exercises and learning content to stimulate thinking and change, but the value and success of the mastermind are in its community of like-minded people, supporting and holding each other accountable in this shared journey.
How much does it cost?
Joining the Mastermind costs £145+VAT/month, or enjoy 15% off and pay £493+VAT for the full programme.
For your peace of mind, you can cancel after the first month if this is not for you - but we know you won't! The value of the Mastermind hugely outweighs its price tag.
Good to know!
We are a B1G1 Business for Good: when a new client signs up for our courses or programmes, we plant three trees to nurture the environment and save orangutans in Borneo.

Frequently Asked Questions
Q: What is a mastermind and why should I join?
A: A Mastermind is a group of people having something in common, in this case sustainability, and wanting to change and grow as part of a peer-to-peer support group. The SustainABLE Mastermind enables change by focusing on the key skills you need to become a better sustainability advocate.
Q: Why is it called SustainABLE Mastermind?
A: Virginia wrote "SustainABLE: How to Find Success as a Sustainability Professional in a Rapidly Changing World" and the Mastermind is based on the concepts that are outlined in the book and the main skills that are key to becoming successful sustainability professionals: communication, resilience, selling sustainability, project and people management. We don't cover technical skills because we all have different backgrounds and technical abilities and there are plenty of courses out there that are focused on technical sustainability topics, but the so-called "soft skills" and issues originating from the lack of them are common across sectors and industries.
Q: So, if it is about the book, why should I join? Can I just read the book?
A: Of course, you can just read the book, but the SustainABLE Mastermind goes into a lot more details, and it deep dives into specific aspects of those skills. As an example, communication is a very broad subject but we deep dive into how to improve your presence, how to increase your charisma, how to listen actively.
Most importantly, the SustainABLE Mastermind encourages you to practise those skills. Practice is what bridges the gap between our training and making those changes you want to make, unlike other leadership and management courses out there.
We give the opportunity to our participants to practise the key skills they learn about in the live webinars, via a monthly challenge.
You get feedback and support from the others, via our monthly group coaching sessions. You also get feedback and support from Virginia as your coach in the one-to-one coaching sessions, during which you can discuss any personal difficulties or blockers you might have.
Q: Is the SustainABLE Mastermind for me?
A: Are you a sustainability professional or leader who:
is passionate about sustainability but struggle to get the message across?
feel overwhelmed and overworked and yet have the feeling that is not making the difference?
lost the spark under a mountain of mundane tasks?
want to make a real impact but don't know how?
is looking for their sustainability tribe?
If you answered yes to any of the above questions, then the mastermind is definitely for you!
Q: What do you get out of it?
A: You get to practise and acquire the skills you need to become an impactful sustainability advocate; you learn a lot about the psychology of the mind, and about your limiting beliefs and how to overcome them.
Do you know what stops you from thriving in your sustainability profession? Through the SustainABLE Mastermind you get to focus on the solutions: how you can improve your chances to be successful, how to change yourself and your mindset, and how to reach your goals.
In brief, you get an opportunity to learn about yourself, to grow and to meet like-minded people who love sustainability as much as you do. Through this unique process, you get to become the sustainability advocate you deserve and long to be; together, we will make sustainability become a no-brainer for everyone.
What are you waiting for? A new Mastermind Group starts on the 23rd September 2021 at 12:30 pm UK time