A new Mastermind Group is starting in January 2021.
If you are curious about the Mastermind and what it can do for you, watch the recording of the intro webinar HERE.
We live in unprecedented times, full of opportunities and challenges in equal measure for you, sustainability professionals.
But do you know how to face challenges and grab opportunities?
Do you feel fulfilled by your current professional situation? Or do you struggle to get people to listen to you?
To make an impact?
To work at your pace rather than some else's?
To stand confidently in front of an audience and speak your mind?
More and more people are now interested in sustainability. Do you think your technical knowledge is enough to set you apart from the competition, especially during a possible recession?
What if you don't do anything at all?
Of course, you can do nothing and hope for the best. But in a world that is changing rapidly, technical knowledge and a passion for sustainability might not be enough to get you where you want to be. In fact, doing nothing to change your status quo can only lead you to the same old patterns of frustration and resentment.
Others with your same qualifications but more confidence and influencing skills might overtake you and grab that opportunity you had your eyes on.
If you don't invest in your change, it's unlikely that your situation will shift and your problems will go away.
We get it; you have been too busy to invest in our personal skills and professional growth.
But now that the world is at a standstill, it's the perfect moment to pause and laser focus on you.
You owe yourself to achieve what your dream of and deserve. You owe yourself and planet Earth to become a sustainability champion and spread that message far and wide.
What if there is a different way?
Of course, you could try and shift your stumbling blocks on your own.
But imagine instead to have access to a supportive group of people, with similar challenges and similar values as you, but coming from different backgrounds and paths of life. Imagine having the opportunity to pause and focus, once a week, on the key skills that affect your productivity, impact, effectiveness and career progress. Imagine being shown some practical solutions and different points of view to tackle your issues.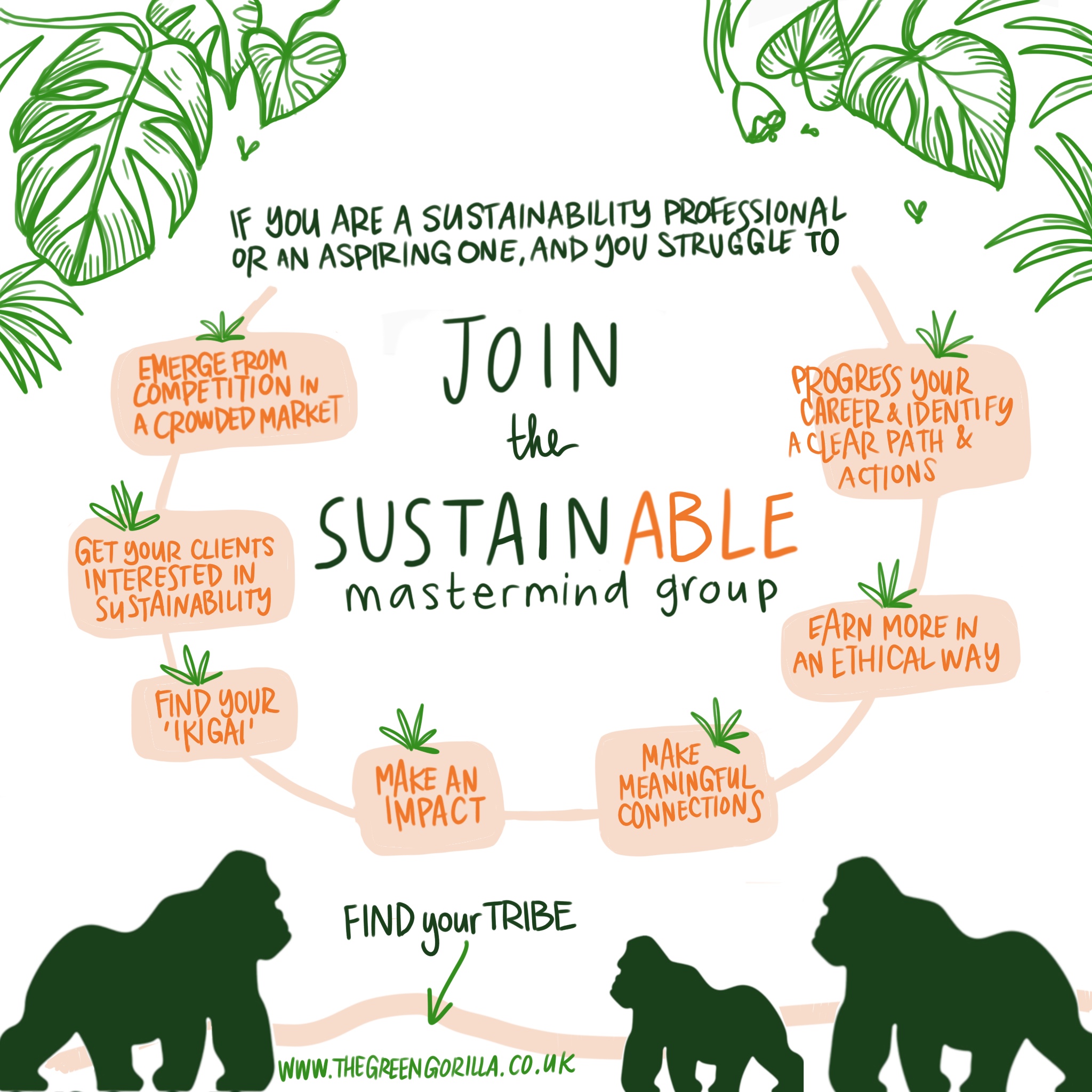 What is the SustainABLE Mastermind Group and how it can help you
"Virginia is an inspiring coach and mentor. She bridges the divide between technical expertise and a great understanding of how to use soft skills to ensure greater influence. The first four weeks of the SustainABLE Mastermind have already proved to be transformative, and have really made me reflect on the stage I'm at, where I'm going, and how I will get there."
- Kate, Sustainability Consultant
We have created the SustainABLE Mastemind Group to support sustainability advocates like you in their journey towards success.
It's an online peer-to-peer support group made of sustainability-focused, likeminded individuals with the aim of growing their soft skills collectively and support each other in the process, in a safe and confidential space.

Based on the key skills of a successful sustainability professional, as identified in the book SustainABLE: How to Find Success in a Rapidly Changing World by Virginia Cinquemani, each month the group deep-dives into different aspects of the sustainability sector that commonly cause issues: eco-anxiety, procrastination, uninterested clients, work overload, making an impact, selling when you are not a salesperson, and many more.

Each month we will address those challenges as a group and support each other to shift out mindsets and find practical solutions.
In this process, we will focus on growing your confidence in yourself so that you can learn to:
Speak to others in a clear, concise and charismatic way
Work through challenges of any kind well-armed to overcome them
Speak publicly with confidence and influence anyone you have in front of you
Negotiate successfully
Manage your workload so that you become more efficient and effective
Progress your career to the next level
Find your tribe.
What can you expect from the group?
Mutual support
Accountability
Confidentiality
Growth
Learning.
By joining the mastermind you'll commit to:
Confidentiality
Honesty
Respect
Putting in the work
Participating live as often as you can.
What do you get when you join?
Two webinars a month (check out the programme!)
A group 'hot seat' call (Q&A session) a month
A monthly challenge on one of the themes of the month
Access to the full Green Gorilla Masterclass Programme
A one-to-one 20-min laser-focused coaching session on your individual issues a month
A digital or paper copy of SustainABLE, the book.
Networking and new connections.
In between sessions, participants will be able to interact and support each other via our exclusive Slack group.

Virginia Cinquemani will coordinate the group and propose cues, tips, exercises and learning content to stimulate thinking and change, but the value and success of the mastermind is in its community of like-minded people, supporting and holding each other accountable in this shared journey.
How much does it cost?
Joining the Mastermind costs £145+VAT/month or £1,450+VAT/year (saving you two full months).
For your peace of mind, you can cancel after the first month if this is not for you - but we know you won't! The value of the Mastermind hugely outweighs its price tag.
Frequently Asked Questions
What are you waiting for?