Can circular economy save the planet?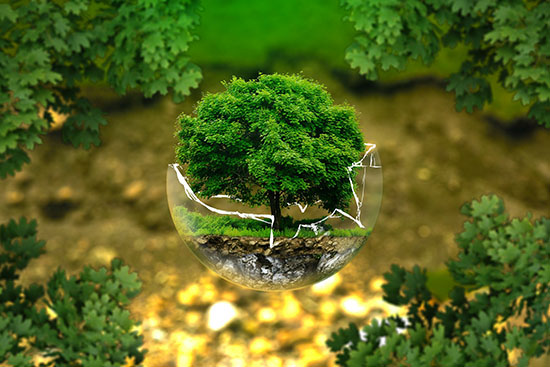 This phrase by Walter Stahel, the man who also coined the phrase 'cradle to cradle', made me chuckle before I felt the heaviness of its meaning.
How often do we actually feel that our single and collective actions have an impact on humanity's survival? We are inherently short-sighted beings, and can often only see the tip of our finger, rather than the moon it's pointing at. That's how we have survived up until this point. However, our actions in the last 200 years, especially our actions of consuming more than the planet can produce and mindlessly disposing of items that take thousands of years to decompose but we use only once, have changed the face of our planet more than in the past 10,000 years of its history. It has recently been brought to the public's attention that our actions over the next handful of years (scientists think as little as ten) will determine the health of the planet for the next 10,000.
So, what is it that we can actually do to start reversing this deadly trend?
This week I interviewed Dave Cheshire, Regional Sustainability Director at AECOM, for our forthcoming Green Gorilla Conversations videocast. He wrote a compelling book, 'Building Revolutions: Applying the Circular Economy to the Built Environment', that for the first time condenses and rationalises, in less than 150 pages, all the available knowledge on circular economy applied to buildings.
Until I read Dave's book, I have to admit that even as a sustainability professional, I had this impression that circular economy was some sort of very complicated, energy intensive process, that turned yogurt pots into kitchen countertops. I didn't think it was something that could have been applied, with a little thought and planning, to whole buildings.
Circular economy ensures that materials and resources are kept in use and retain their value, rather than being consumed and disposed of. Dave has come up with a very straightforward way of applying circular economy principles to buildings. This involves looking at what's the best, most cost effective and energy efficient way of reusing materials and systems that have already been shaped into buildings, and keeping them in use for as long as possible, until they can be transformed into something else.
That's the way nature works - nothing ever gets thrown away.
He developed a diagram that explains it very clearly: the inner circles are the actions that should be prioritised (retaining, refitting and refurbishing) before reclaiming and reusing, remanufacturing, and finally recycling and composting.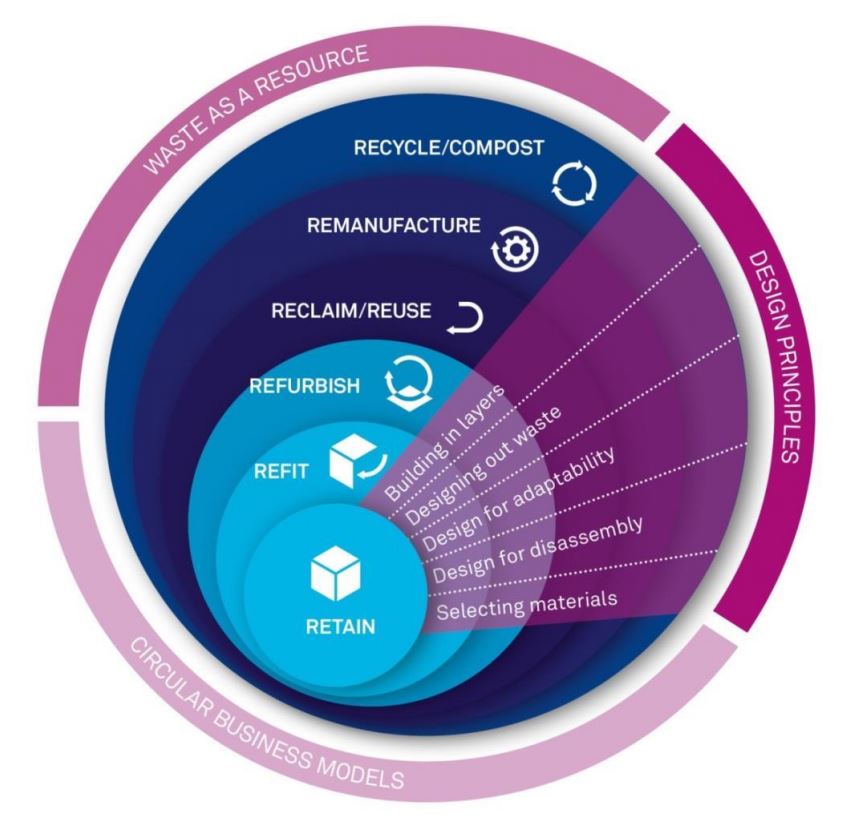 Courtesy of D. Cheshire, Building Revolutions
There are several design principles that underpin these, including designing out waste and designing for adaptability, but a particular design principle that struck me as very manageable, is to look at a building as though it were an onion.
In this design principle, each layer would be designed in its own right using circular economy principles, and would work harmoniously with the other elements to serve a purpose that provides a performance, rather than being a 'product' that gets thrown away when it stops serving that purpose.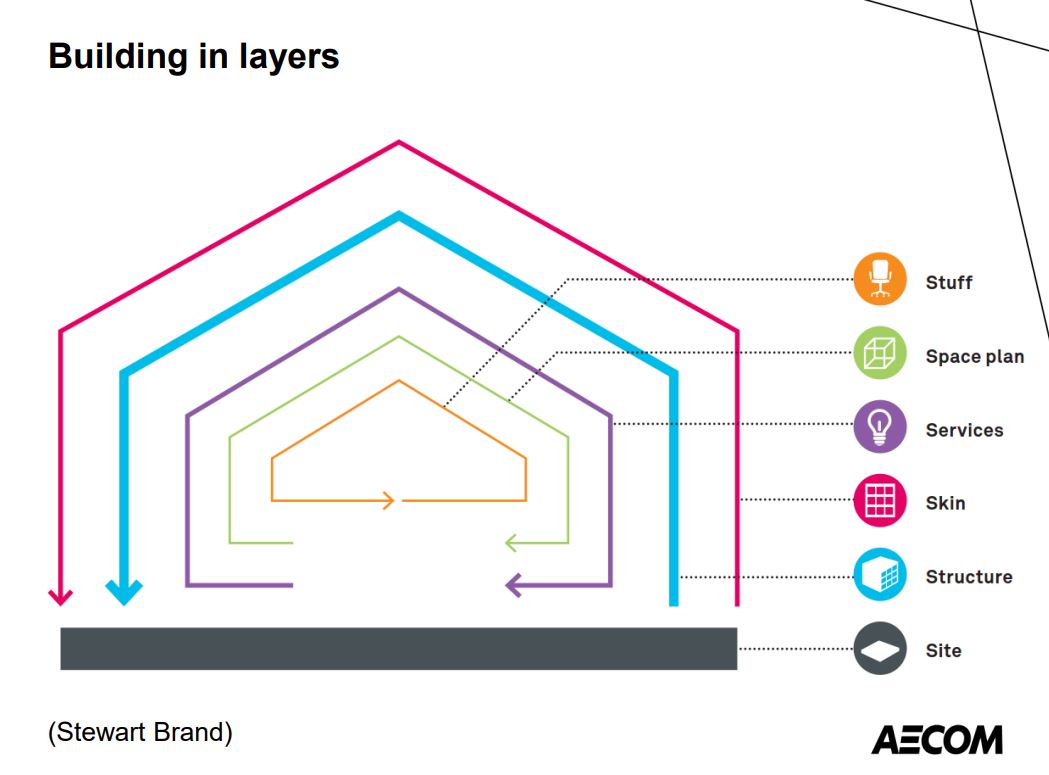 While inner layers of the buildings can be designed to have shorter cycles, outer layers will be engineered so that they last for longer in their current building. They then get deconstructed or repurposed for the next one, or for a different function and industry altogether. As a remarkable example, described in Building Revolutions, the architects of the Enterprise Centre at the University of East Anglia, Architype, selected all the structural materials to be locally sourced, natural and biodegradable, so that they can actually be composed at the very end of their usable life in their current function.
There is a lot of money to be made and saved in using circular economy principles, since materials are seen as always having residual value.
Manufacturers would start taking responsibility for their products, offering a performance service for which they would repair and maintain an element of the building, build and maintain the relationship with their clients. They would then get the product back when it's not usable anymore, and repurpose it in the cycle - rather than selling it and running away from it.
Sustainability consultants can educate their clients to recognise the advantages of circular economy principles, perhaps starting from some simple considerations around what materials to choose for their next building, and then highlighting the economic benefits of such a move.
Dave's video interview will inaugurate our Green Gorilla Conversations' YouTube videocast and will be premiered on YouTube on the 27th November at 12:30 GMT.
Log in here at the time to watch it first and comment live. And don't forget to subscribe to the channel, to watch this and many others masters of sustainability's interviews.