The happy sustainability consultant (or how to achieve BREEAM Outstanding and still smile)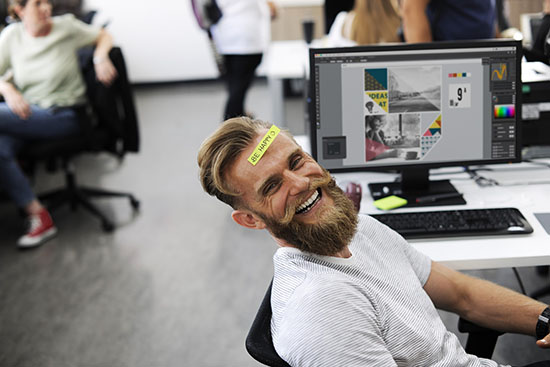 At a recent networking event, I met a very happy sustainability consultant.
Given that my new mission in life is to help sustainability consultants to feel happier in their jobs, mainly by making them more confident and able to 'sell' sustainability convincingly, I was struck by the happiness in this young professional.
I have carried out extensive market research, and besides a few exceptions, most sustainability consultants are unhappy because they experience a gap between their expectations of a world where sustainability is the "business as usual" option, and the reality of green wash and disengaged clients, who just want to make profits.
We had a chat over a glass of wine, and she told me how her company, Sweco, helped achieve BREEAM Outstanding ratings in more buildings than anyone else. She also told me how her boss, Kartik Amrania, won several awards for the company and for himself including BREEAM Company of the Year in 2014, 2016 and 2017, and Assessor of the Year in 2016. Some of his projects include the One Pancras Square and Spire London, and he was also the appointed BREEAM Assessor for the Bloomberg headquarters, which achieved the world's highest BREEAM rating.
I wanted to know more about this "King Midas of BREEAM", and how he managed to achieve these incredible results, when only 1.5% of all buildings assessed under BREEAM achieve an Outstanding rating.
So I've done my research, and Kartik, the Head of Building Sustainability Department at Sweco UK, a mechanical engineer with over 15 years' experience in sustainable building design, seems to have a pretty well-oiled way of achieving very high BREEAM ratings. In a recent article published on Building, he distilled three main barriers to be addressed when targeting Outstanding.
Life cycle considerations.
Most teams' efforts go into reducing carbon emissions from operations, but few embrace the challenge of reducing embodied carbon, which accounts for approximately 22% of the overall carbon impact from buildings.
Kartik says that despite carrying exemplary BREEAM credits, the importance of the LCA process is often overlooked, with no formal requirement to incorporate their learnings into overall building design.
Yet, using the findings from the LCA is a simple but effective means of boosting BREEAM ratings, ensuring a building's environmental performance is the best it can be, and ensuring sustainability is incorporated at every stage of the design. This process also had the advantage for Sweco to formulate a series of innovative and futuristic possible scenarios (vacuum flushing toilets, anyone?) that helped with extra innovation credits to boost the buildings' ratings.
This leads nicely to the second factor Kartik highlights:
Innovation versus Replication.
Often teams that have an aim to achieve higher BREEAM ratings look up at those buildings that have already achieved Outstanding, but fail to recognise and capitalise on the differences in their buildings. Replicating outstanding solutions used in other buildings may not equate to Outstanding ratings in your own building.
Finally,
Collaboration.
The industry has been aware for years that working in silos, however tempting, is detrimental to a truly sustainable and well-designed building. For instance, Building Information Modelling has been developed exactly to overcome the silo mentality and encourage a fully visible design process, in which all stakeholders are involved and can contribute from day one. This is the only way to prevent any potentially disastrous conflicts down the line. The industry as a whole though, doesn't fully grasp the importance of this concept yet and often struggles to adopt a collaborative approach, with negative impacts on costs and timing. BREEAM encourages collaboration to minimise the risks connected to working in isolation and as an effective way of fully integrating sustainability in the design and building process.
Although obviously there is a lot more to the achievement of BREEAM Outstanding than this, Kartik has nailed a way of focusing his team's efforts on some of the most fundamental elements to achieve a truly holistically sustainable building, signified by a BREEAM Outstanding rating.
What I found interesting in Kartik's analysis, is that, whilst fundamental success factors of a sustainability assessment like location and the time a sustainability consultant gets appointed are mainly down to the client, LCA, innovation and collaboration are elements that, to a certain extent, are within the control of the sustainability consultant. Encouraging their clients and design teams to focus on these will have a massively positive outcome to the assessment.
The bottom line of these considerations is that, whilst unfortunately BREEAM is often seen as an unnecessary add-on and a mere tick box exercise, it is actually possible to use BREEAM as a design tool to encourage buildings to be truly sustainable, save time, money and obtain better results.
To support sustainability consultants to:
- Improve how they approach and listen to their clients, speak to them, and present themselves;
- Match specific sustainability benefits and values to their client's individual needs;
- Streamline and improve the way they project manage their sustainability projects
Green Gorilla offers a range of training and coaching solutions tailored to sustainability consultants.
These include live, online webinars with LCA experts One Click LCA to help address technical and practical issues in the application of LCA in your BREEAM assessments.
Tags: Getting Started